Having trekked in about 20 countries since I took up trekking as a hobby some 10 years ago, I thought it was about time I went to Switzerland and spent some time in the Alps. After all, Switzerland is well known as one of the most beautiful countries in the world, and its Alps are particular scenic. One of my regular trekking buddies, Tan Boh Seng, had the same idea and she took the initiative to contact Alpes Trekking of France to join their 10-day trekking program known as the Walker Haute Route Trek, starting on 11.08.2011 from Le Tour village near Chamonix in France (at the foot of Mont Blanc) and ending on 20.08.2011 in Zermatt in Switzerland (at the foot of Matterhorn).

7 Malaysians and 1 Australian signed up for this trek. They were: (1) Tan Boh Seng, (2) Choong Lai Cheng, (3) Christina Goh Wee Kiow, (4) Catherine Mak, (5) Chin Mee Poon, (6) Lee Beng Eng, (7) Law Chin Teong, and (8) Dr. Ng Gan Che (Australia). The first seven persons flew to Geneva on different dates whereas Dr. Ng spent some time in Venice with his family before the trek. All of us had our individual plans before and after the trek.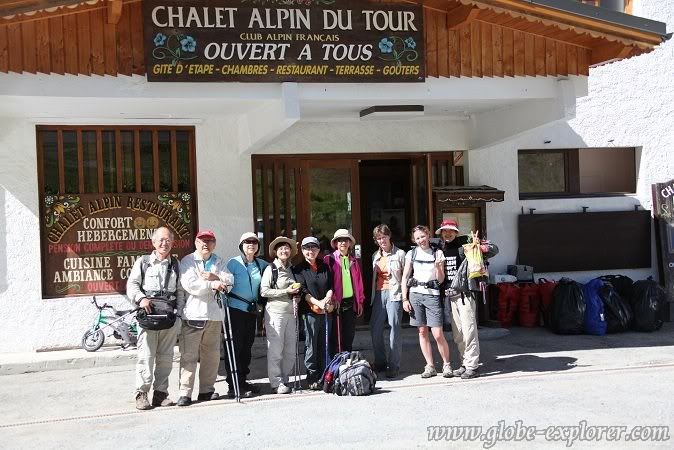 On 09.08.2011, my wife and I took a train ride from Locarno in southern Switzerland to Chamonix in France and thence to Le Tour village by bus, checking into Chalet du Alpin before 19:00 hrs. Boh Seng, Lai Cheng, Christina and Catherine came one day earlier. Chin Teong was supposed to meet up with Gan Che in Geneva on 09.08 and then come to Le Tour together on 10.08, but Gan Che's son was hospitalized in Venice and Gan Che could only join the group later, so Chin Teong came to Le Tour on 10.08 afternoon alone.
On 10.08 morning, the six of us went to Chamonix to do the Trans Tour Mont Blanc – a trip using 5 cable cars and a gondola to "fly" across 5 km of glaciers, icefalls, crevasses and mountain ranges from Chamonix in France to Courmayeur in Italy and return via the 11.6km Mont Blanc tunnel (photos and write-up on this trip will be posted on facebook separately).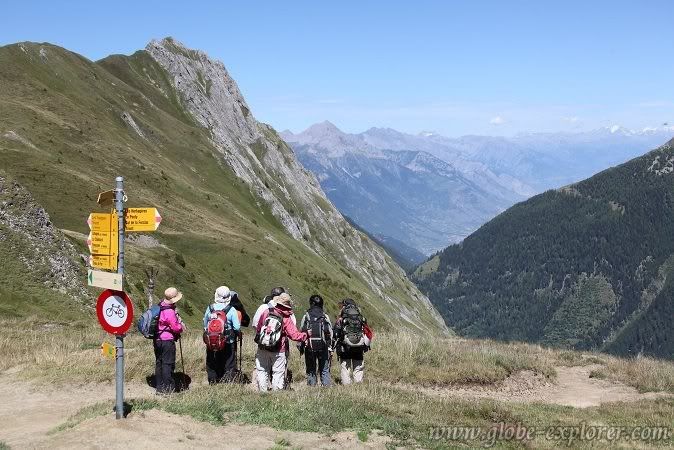 Our guide for the trek was a Swiss lady by the name of Sonia Tissieres. We did not meet her until 10:30 hrs on 11.08, our first trekking day. A Swiss woman from Geneva by the name of Barbara joined us for the trek.
What follows is a brief, factual daily narrative of our trek based on my diary:
Day 1: 11.08.2011 Le Tour – Trient
We started trekking at 11:05 hrs after a group photo in front of Chalet du Alpin. We were going uphill following the cable car route.
12:45 hrs, stopped for lunch half way between the cable car station and Col du Balme. It was about 1900m a.s.l. there. We had tomato, roast chicken with bread, cheese and cucumber.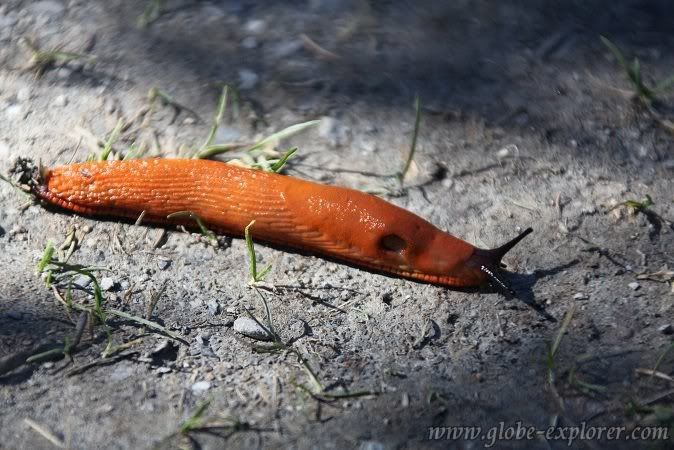 We were back on the road at 13:45 hrs. and reached Col du Balme (2191m a.s.l.) at 14:25 hrs. It's on the boundary between France and Switzerland. We started to descend towards Trient after a short rest. The trail zigzagged down the mountain. Then the village of Trient came into view. We entered a pine forest. When we came out of the forest, we were already down in the valley.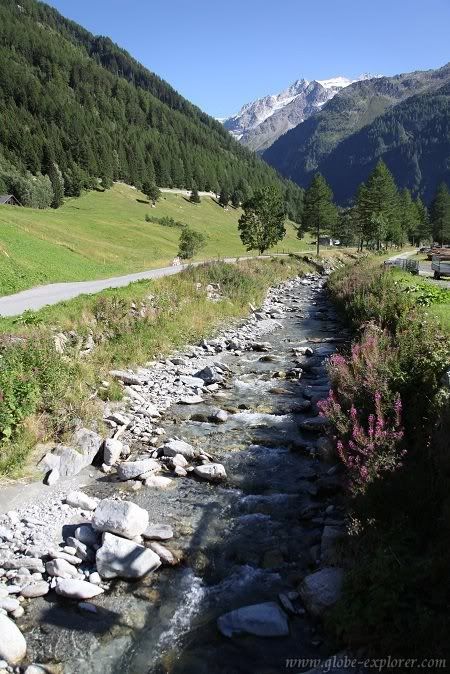 17:30 hrs, reached Relais Mt. Blanc in Trient (1279m a.s.l.). All 8 of us were accommodated in Dormitory No. 21 on the 2nd floor together with some strangers. The dormitory had 18 mattresses placed side by side in 2 levels. We took our luggage into the dorm, but had to leave our smelly boots outside.
Dinner was served at 19:00 hrs. We had cheese and bread, salad, rice and pork, and ice cream for dessert. Sonia gave us a briefing on the next day's trek after the dinner.