One of the fascinating paintings in the Old Palace Museum (Mattancherry Palace) in the Old Fort, Cochin, Kerala, India. The famous Mattancherry Palace was built by the Portuguese and repaired by the Dutch, but its architectural style is definitely of Kerala.
My wife and I visited South India from 31.01 to 12.02.2006 together with 9 others. The places visited by us in chronological order are:
Kochi (Cochin)
Alappuzha (Alleppey)
Tekkady
Kodaikanal
Madurai
Ootacamund (Ooty)
Mysore
Somanathpur
Hassan
Halebid
Belur
Shravanabelagola
Bangalore
Fishermen at Fort Cochin, Cochin, Kerala, India
In such a short period of time, we could only expect to have a cursory skim of the vast cultural treasures that the 4 South Indian states of Kerala, Tamil Nadu, Karnataka and Andhra Pradesh have to offer. As a matter of fact, we did not even have time to visit Andhra Pradesh at all.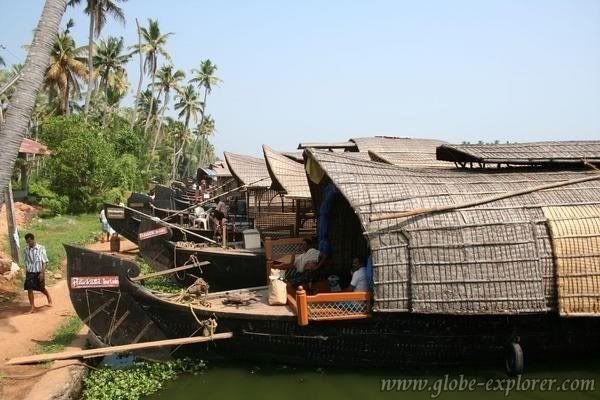 House boats on Kerala's backwaters
House boats (kuttu vallam) on Lake Vembana at Alappuzha (Alleppey) in Kerala, India. It cost Re2,500 to charter a house boat for an 8-hour cruise on the lake.
Kerala much of the landscape and wealth of Kerala is dominated by tall, elegant coconut palms. When Columbus sailed from Spain, he was seeking a route to the land of spices – Kerala. Kerala's Malabar Coast grows the world's best pepper, known as Black Gold, which induced half of Europe into power struggles to control supplies of this small, pungent berry.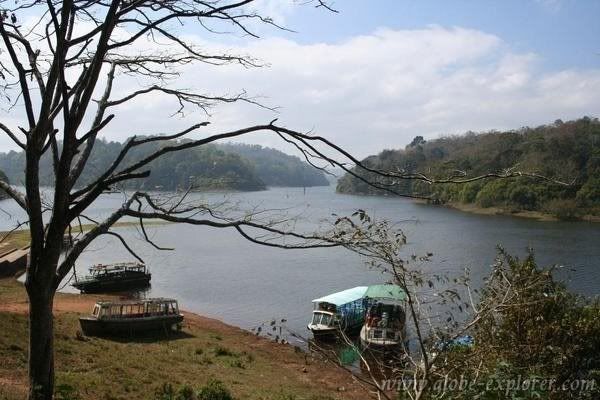 Lake Periya in Periya Tiger Reserve (also known as Periya Wildlife Sanctuary), 80 km from Kottayam in Kerala, India. The 775 sq. km. sanctuary is the habitat for a variety of wildlife ranging from elephants, gaur, deer, leopards and tigers to monkeys.
Kerala of taday is a mixed land of Hindus, Muslims, Christians and Jews and many different castes and communities. Yet despite the myriad contrasting elements there is genuine religious tolerance in Kerala, a state remarkably free from communal violence which still haunts other parts of India. Kerala is also India's most literate state – the same state that saw, in 1957, the world's first freely elected communist government.

We crossed the lake in Periya Tiger Reserve by means of a bamboo raft.

A boulevard for bullock carts and cars
On the way from Tekkady in Kerala to Kodaikanal in Tamil Nadu, India.